In the guide: mobile power generators, we last described which criteria are important for choosing the right generator. In this article we want to explain which generator accessories are still required to ensure safe operation.
In order to be able to operate a generator, however, you need a few additional things that are not included in the scope of delivery when you buy it. The required generator accessories have to be procured for the first operation.
Most manufacturers supply tools for changing the spark plugs as accessories for a generator and often also a replacement spark plug.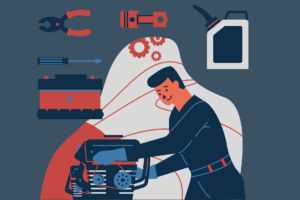 In addition, with some generators with an oil filler plug that is difficult to access, a funnel or a filler neck or a corresponding metering device for filling in the engine oil is often included.
Motor oil for generators
However, the oil itself is not included. We recommend using engine oil specially developed for small engines in garden tools. In addition, you should absolutely read in the operating instructions which oil specification the manufacturer prescribes for the operation of the generator. The oil filler opening, through which the oil is filled in or drained off again in most units, is often not easily accessible in many generators. Some manufacturers therefore supply simple filling funnels and drainage tubes. But it is better with an oil change set for small engines, which includes both a metering device for exact filling and a collecting container for draining the used oil.
Werbung
Fuel canister and filling device
You also need a fuel canister with a flexible filler neck that fits into the tank opening, because the tank openings are quite small in some units and the fuel runs quickly over the whole unit, which is not entirely harmless. As an alternative, a funnel suitable for the fuel used can also be used.
Accessories for grounding the generator
Basically, all gasoline-powered generators should be grounded during operation; this prevents fuel from igniting due to static charge. There are special earth rods that can be hammered into the ground. This is then connected to the generator via a grounding cable.
Werbung
Exhaust extension hose as an accessory for the generator
In principle, mobile power generators can only be operated outdoors. When operating in the house there is an acute danger to life from carbon monoxide poisoning, which leads to repeated deaths.
At this point, we also strongly advise against the use of exhaust extension hoses unless they are offered directly by the manufacturer as an accessory for the relevant model.
Cable drum and extension cable
In order to bring the electricity from the generator into the apartment, at least one extension cable or a cable drum with several sockets is required. The extension cable or the cable drum should also be equipped with a rubberized cable so that they can also be used safely outdoors. We also recommend using a color-coded cable that is at least 10 meters long.