In order to be able to operate a generator, you also need an appropriate supply of fuel. The same applies to gas-powered devices, fuel for suitable camping stoves and oil lamps for alternative lights.
When storing fuels and fuels, it is important to pay attention to how much one is allowed to store. It is also important to know how long the fuel can be stored or how long it can be kept.
In this article we will go into how long the respective fuels can be kept. We also describe what you have to pay attention to when storing fuels.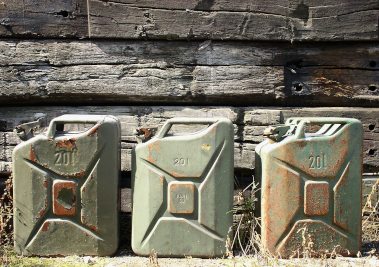 A large number of legal regulations and ordinances apply to the storage of fuels. First of all, the "Technical Rules for Hazardous Substances" TRGS510 apply. In addition, the "Industrial Safety Ordinance" BetrSichV and the "Water Management Act" WHG apply. In addition, the state-specific "Garage Ordinance" applies (find out which rules apply here in your state).
Werbung
Gasoline and 2-stroke mix
Basically, a household can store a maximum of 20 liters of petrol or a 2-stroke mixture. The petrol must be stored in closed containers in a garage with an area of ​​less than 100 square meters. For storage in the cellar, a maximum of 10 liters applies. Contrary to popular belief, you can store gasoline in airtight containers for several years. The gasoline does not lose much of its quality.
A petrol generator with a 20 liter canister can therefore be stored for a very long time. In the event of a power failure or blackout, you can quickly get power again.
Diesel
A maximum storage quantity of 200 liters per household applies to diesel. However, the shelf life of diesel is significantly less than that of gasoline. Diesel should not be stored in closed containers for longer than a year. As early as 6 months, bacteria from the biodiesel part start to break down the fuel. This creates suspended solids that can clog the fuel system.
A diesel generator can therefore be operated for longer in the event of a blackout, as more diesel can be stored. However, the fuel has to be replaced regularly much earlier.
Werbung
Lamp oil and kerosene
Lamp oil is usually paraffin oil with or without added fragrances. Paraffin oil is highly purified petroleum and, if no fragrances are added, burns completely odorless and soot-free. Both lamp oil and kerosene can be stored for several decades without losing any of its quality. With regard to the permitted storage quantities, the same regulations apply as for diesel.
Bottled gas
A maximum of 16kg of gas can be stored per household, but the floor of the storage room must be above the contour of the terrain. When storing gas, the TÜV certification mark of the gas cylinder applies for the maximum storage time. This is granted for a maximum of 10 years for a new gas cylinder.
Camping gas cartridges
In principle, a maximum of two camping gas cartridges can be stored in a household. It doesn't matter whether you store the cartridges indoors or outdoors. The cartridges have to be stored in different rooms. In addition, the cartridges must not be stored in the bedroom, stairwell, hallway or rooms below the contour of the terrain. You can store gas cartridges indefinitely.
Werbung
Denatured alcohol and bioethanol
Denatured alcohol and bioethanol have an unlimited shelf life. In addition, you may only keep these in the household in containers with a maximum content of one liter. A total of 20 liters per household is permitted. You must not keep these in the bedroom, stairwell, hallway or rooms below the contour of the terrain.
Storage of fuels – conclusion
Regardless of which fuel or fuel is stored, make sure that you comply with laws, ordinances and rules. Find out in good time about the garage regulations of your state.
If the fuel is not stored properly, it can be very dangerous under certain circumstances. You should also note that in the event of damage, such as an apartment fire, insurance companies will check whether the fuel has been properly stored. Wrong storage can then be really expensive.